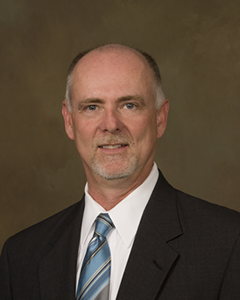 Glenn Deibert
President
Coastal Pines Technical College
Welcome from the President
GO COASTAL! That is the theme and message we hope you will hear and see often in the year ahead.  It is part of our marketing focus to get you to consider Coastal Pines Technical College (CPTC) for your workforce development and lifelong learning needs.  Whether your goal is to improve a skill, earn a High School Equivalency/GED, certificate, diploma, or associate degree, or start here and transfer to a four-year institution, our qualified faculty and staff can help make your decision to GO COASTAL easy and successful.
As a Unit of the Technical College System of Georgia, we offer degree, diploma and certificate programs as well as adult education, English as a Second Language (ESL) classes and workforce development services. The College's dual enrollment program provides exceptional opportunities for Georgia high school students to GO COASTAL by taking college level courses that earn credit toward a high school diploma and a college degree at the same time.
CPTC offers over 140 programs of study through the traditional classroom setting, online, and even on weekends. Providing multiple methods of offering classes and flexible class scheduling helps students GO COASTAL and reduces the barriers students face while leading a busy lifestyle. Additionally, job placement and financial aid assistance are available – including the HOPE Grant, HOPE Scholarship, and the Hope Career Grant.
CPTC continues to grow by adding in-demand courses and programs that allow our students access to the latest industry trends. New facilities and renovations provide students with state-of-the-art classrooms, labs and equipment. Partnering with local business and industry through advisory committees ensures our students are using the latest technology and learning the skills used by professionals.
As you view our catalog, you will find resources and information to help you GO COASTAL to take the next step toward reaching your educational goal. In addition, you will find that CPTC faculty and staff take a personal interest in your achievement.
Coastal Pines Technical College

A Unit of the Technical College System of Georgia